Introduction
The Virginia Department of Education has decided that it needs to overhaul the doctrine regarding education of children about the Mesozoic Era. For too long we have narrowly focused on the interest some children have for dinosaurs and neglected the other amazing animals around during that era. You have been made responsible for initiating the first response. You have decided that the best ways to start would be either to write a series of children's books about the different animals of the time or to start a letter writing campaign.
Task
You are going to help the VA DOE by taking the first action. You are either going to develop a children's book about a specific Mesozoic animal or write a detailed letter to the head of the local superintendant explaining the need for change in the curriculum.
Procedure
You will work either alone or in a group of two to create your document.
1) You will choose from one of the animals below-- Use the links provided to research your organism. (Click on the image at the end of this section to get to the links.)                   
2) As you look at the resources complete the annotated bibliography. This should be written on your information sheet along with your outline and your answers to the basic animal questions. 
3) The book should be age appropriate in terms of length, vocabulary, and number of pictures. The book must be submitted in book form. (It should not be emailed or be a stack of unbound paper.) The letter should be 700-900 words. The letter must be submitted to me digitally.
4) You must check to be sure you have included all necessary and appropriate citations.
In-text citations    Plagiarism/Grammar Checker     Rules on when to cite
5) Look at the rubric to see how you will be graded.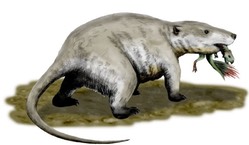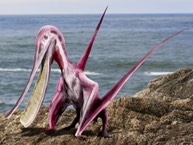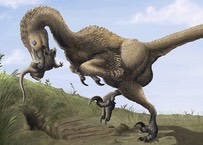 Dinosaur-eating Mammal           Filter Feeding Pterosaur   Multituberculates (getting eaten)
         Running/Bipedal Crocodiles
Evaluation
You will be graded on the presentation and the qualitiy of the final product. Be sure to follow the link to the rubric with which you will be graded. Grade will include the worksheet, the annotated bibliography, and the final product.
      Rubric for grade on Children's Book
      Rubric for grade on Letter to Superintendent 
You should include within your letter or book the following information:
1) In what phylum is the animal found?
2) What did the animals look like?
3) To what, if anything living today, are they related?
4) What did they eat?
5) Where did they live?
6) When did they live?
7) What challenges might they have faced?
Conclusion
Dear Geology 106 class at Patrick Henry Community College,
We at the Virginia Department of Education appreciate your assitance in spreading the word about the value of studying Mesozoic animals outside of the dinosauria. We appreciate the hard work and passion you expressed as you went about the creation of your books and formulation of the letters to school superintendants across the Commonwealth.